3M™ Adper™ Easy Bond
(Made in Germany.)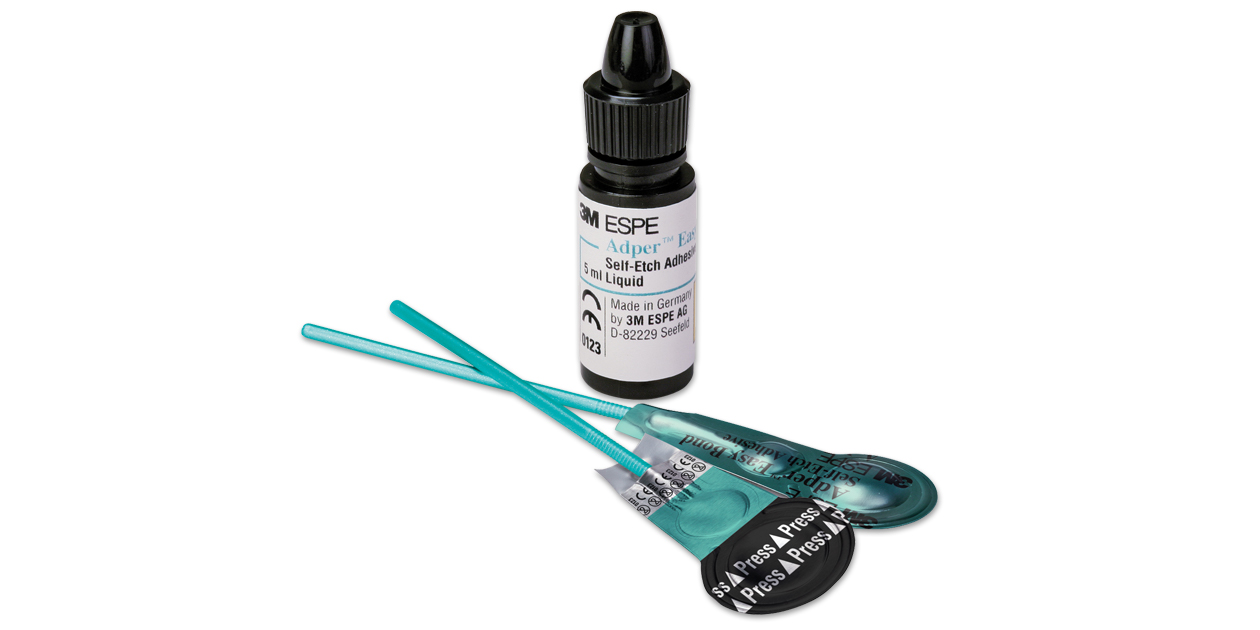 Product Details
7th generation self-etch adhesive offers one-bottle, one-coat convenience for fast and easy application.
High bond strength, high marginal integrity, high moisture tolerance and low microleakage make it an excellent choice for bonding all direct composite restorations on wet or dry dentin or enamel.
Refrigeration required; this product is stored under refrigeration at Safco.
Clinical Evaluations
Adper Easy Bond
was used by 16 editors in over 400 restorations. This product received a 96% clinical rating.
Description
3M ESPE Adper Easy Bond is a 7th-generation, light-cured, self-etch bonding agent. It is recommended for bonding direct composite and compomer restorations, core build-ups, repair of porcelain fractures, dentin desensitization, and cementation of most indirect restorations (when used in conjunction with RelyX ARC).
Application of the bonding agent requires 20 seconds of scrubbing the material into the preparation, followed by 5 seconds of air and 10 seconds with a curing light (halogen, LED or plasma light-curing units). Adper Easy Bond is available in two delivery systems, drop-dispensing from a squeeze bottle or unit-dose applicators. Application time from either type of packaging is approximately 35 seconds. It is recommended that uncut enamel be etched with phosphoric acid. The usual precautions of maintaining a dry operating field, avoidance of contamination by essential oils, pulp protection for deep lesions, and limited contact with soft-tissues of both patient and operator are recommended.


Instructions/Packaging/Completeness of Kit
Packaging of both delivery systems for Adper Easy Bond includes a wellillustrated, laminated, step-by-step graphic guide and a clearly written, detailed description of all facets of use. Each delivery style comes in a drawer-convenient sized box with all needed items included. The Editors agreed that these instructions and completeness of kits were excellent. The unit-dose packaging and the convenience of the single-drop dispensing bottle/disposable plastic cup system were also rated excellent.
Ease of Dispensing/Ease of Application/Wettability
The ease of placing this material, the overall efficiency of the single-step protocol and the wettability of the material ranked very high with the Editors. The manufacturer recommends acid etching uncut enamel for best results.
Unit-dose Convenience and Amount of Material
The unit-dose packaging was very convenient and easy to activate for most Editors. Some found the medium-size fiber brush in the unit-dose applicators a bit large for very conservative preparations. A few Editors would like to see more material in each unit dose for multiple restorations.
Time Required for Bonding Procedure/Ease of Air Dispersal/Odor
The material dispersed easily with air and the 35-second application time was a favorite of Editors. Odor was not cited as a problem by Editors.
Usefulness for Various Procedures
Editors noted that compatibility with self- and dual-cured restorative materials would increase the usefulness of Adper Easy Bond.
Ease of Band removal/Postoperative Sensitivity
Adherence of metal matrix bands to cured composite was not a significant problem nor was postoperative sensitivity of treated teeth.
Bond strength to tooth structure
Enamel: 23 MPa
Dentin: 28 MPa
Eighty percent of Editors reported that Adper Easy Bond was equal to or better than their current 7th-generation bonding agent. 87% would recommend it to a colleague and 67% would switch.
The fiber brush is passively placed in the unit-dose applicators. For small cavities, remove it and replace with a smaller brush.
Twirl the brush handle in your fingers when popping the blister to avoid bending the brush at the neck.
After wetting a tooth surface well, blot the brush dry and scrub the preparation to enhance coating the surface while removing excess.
For longer shelf life of the unit-doses, store them in the refrigerator and take them out one at a time.
©"The Dental Advisor" May 2008