3M™ Scotchbond™ Universal Plus Adhesive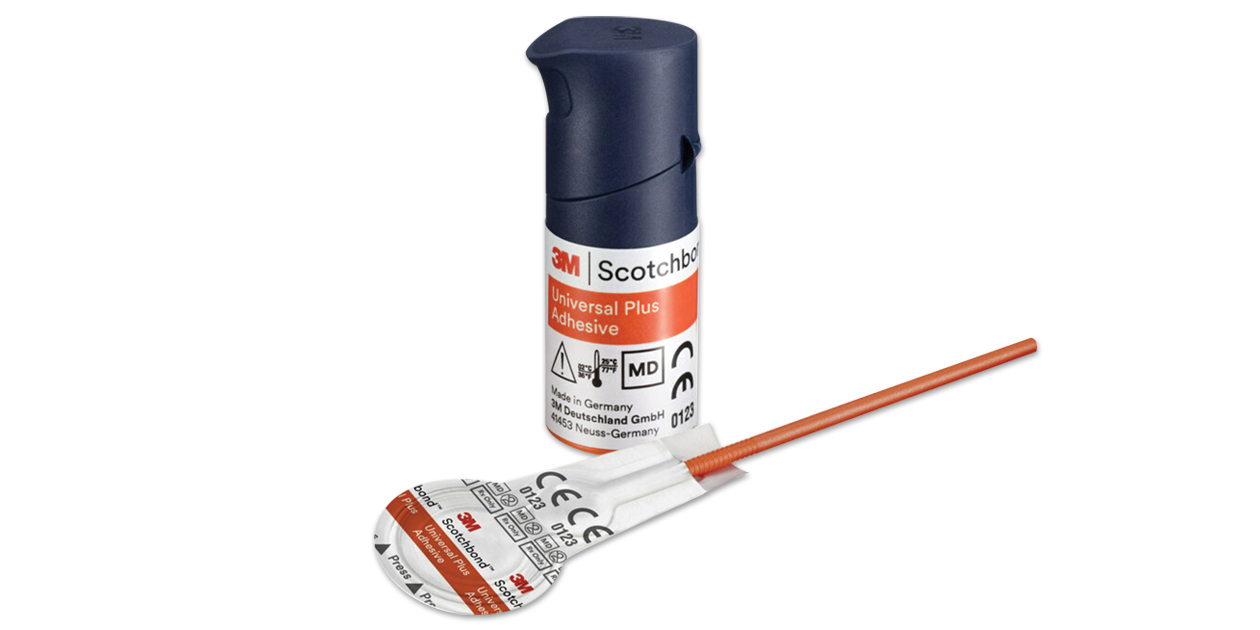 Product Details
The first radiopaque universal adhesive with dentin-like radiopacity minimizes the risk of X-ray misdiagnosis and invasive overtreatment. Features the benefits of the original Scotchbond Universal Adhesive while adding greater control and predictability.
Bonds and seals caries-affected dentin, supporting minimally invasive dentistry.
Advanced bonding to all tooth and restoration substrates, including glass ceramics.
Full dual-cure and self-cure compatibility - no primer, silane or activator needed.
No post-op sensitivity.
Free of BPA derivitives, such as BisGMA.
Clinical Evaluations
3M Scotchbond Universal Plus Adhesive was evaluated by 39 dental professionals in 1,191 cases. It received a 96% clinical rating.
Description
3M Scotchbond Universal Plus Adhesive is a light-cured, single component dental adhesive:
Next generation of 3M Scotchbond Universal Adhesive.
The first radiopaque, universal adhesive available on the market.
Compatible with light-, dual-, and self-cured composite materials, cements, and core-build-up materials.
Can be used with self-etch, selective-etch, and total-etch techniques.
Product Features
First radiopaque universal adhesive.
Bonds and seals caries-affected dentin, supporting minimally invasive preparations.
BPA and BisGMA free.
High bond strength to etched glass ceramic; equivalent to silane.
No dual activator needed.
Clinical Tips
Gently air dry until adhesive appears glossy and uniform.
Treat it similar to 3M™ Scotchbond™ Universal adhesive.
Consultants'' Comments
"It did not run all over the tooth when being air dried - it stayed where I put it."
"After drying, it was easy to tell if you have a nice layer of material over the entire surface to be bonded."
"It handled just like Scotchbond Universal and I love the radiopaque feature."
"The re-designed bottle delivers a very small amount at a time."
"I did not experience any post-op sensitivity."
"You can use it with many more bonding procedures without the need for a separate activator."
"I like its slightly thicker consistency. This give me the feeling that I am properly coating the cavity preparation."
"Can pool at line angles if you don''t thoroughly air dry."
©"The Dental Advisor"
January-February 2021