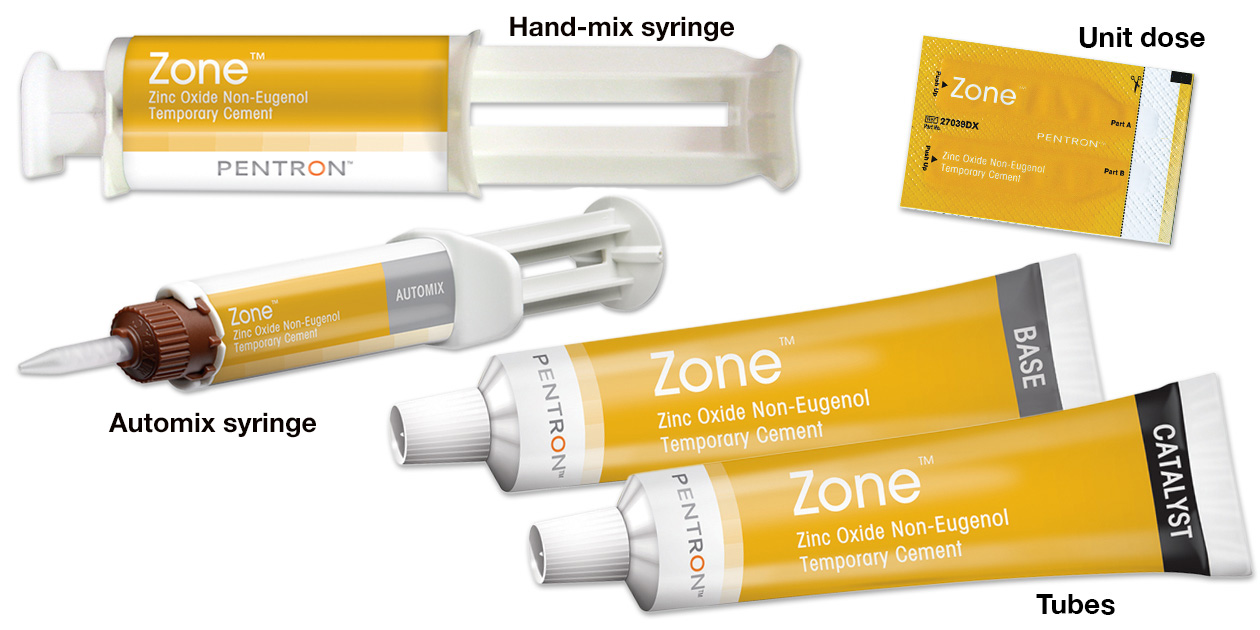 Product Details
Zinc oxide, non-eugenol, translucent temporary cement. Ideal for the temporary cementation of provisionals or permanent restorations for a try-in period. Will not craze or discolor acrylic or polycarbonate crowns. Sets to a hard crystalline consistency.
0' 30" mix time (except automix 4g syringe, which does not require manual mix), 2' 00" working time.
Clinical Evaluations
Zone Temporary Cement Automix
was evaluated by 25 consultants in 676 uses. It received a 91% rating.
Zone Temporary Cement is a zinc oxide, non-eugenol temporary cement available in a dual-barrel automix syringe. Zone does not contain triclosan. It is available in a universal shade and an esthetic shade (A1) for anteriors. Zone exhibits a two-stage set - initial elastic set to allow bulk clean-up and a hard, final set. It is compatible with all provisional materials and will not soften, craze or discolor acrylic or polycarbonate crowns. According to the manufacturer, Zone is kind to the pulp and tissue and will not decalcify dentin. Zone has a 30-second mixing time and a 2-minute working time.


Zone Temporary Cement is neat and easy to use – cement can be applied directly into the restoration from the mixing tip. Clean-up of excess cement is easy in either the elastic or hard set phase. Many consultants commented positively on the appearance of the A1 shade under provisional restorations in the esthetic zone. Some consultants thought the setting time was slow, and many reported that the mixing tips wasted too much material.

56% of consultants reported that Zone was better than their current temporary cement and 36% reported that it was equivalent. 84% would switch to Zone and 92% would recommend it.


Maintain a dry field during cementation.
Use a slight amount of petroleum gel around the restoration so the temporary cement will be easier to remove.
"Easy to dispense, use and clean up."
"I liked the A1 shade for esthetic cases."
"The cement shade blended well with the provisional restoration."
"Mixing tips are too long - waste too much material."
"Setting time could be quicker."

Safco editors' note: Zone in the 4g automix syringe is the subject of this
Dental Advisor review; it does not include other Zone delivery types,
or Zone Free.
©"The Dental Advisor" July 2011