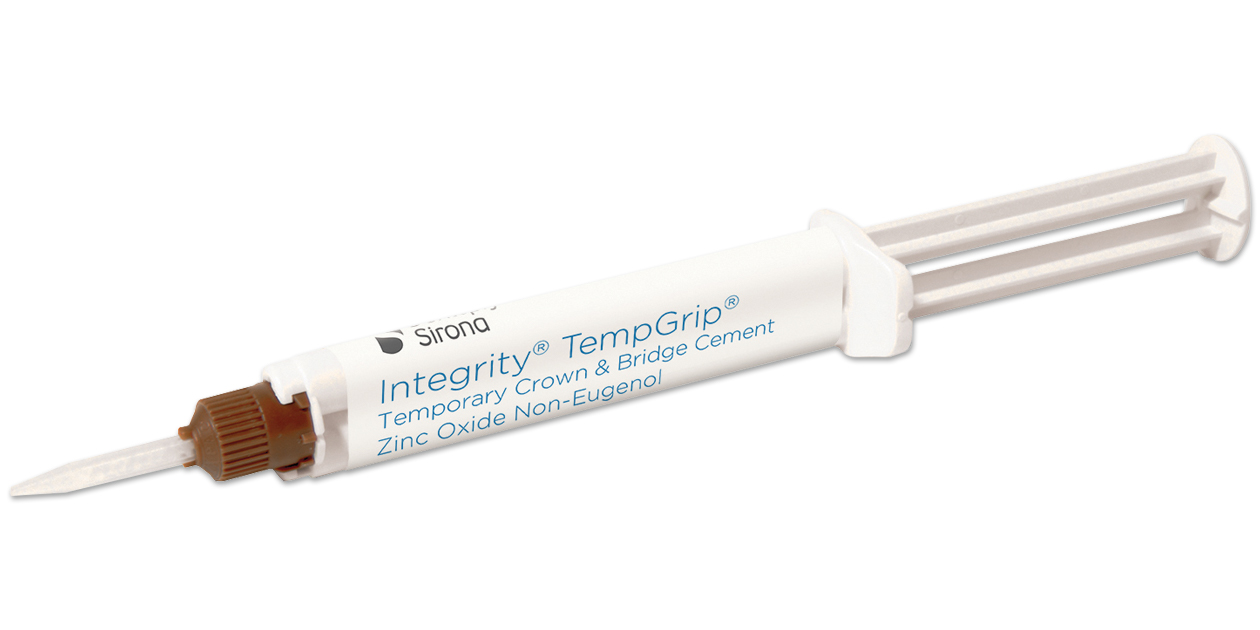 Product Details
Non-eugenol zinc oxide temporary cement with low film thickness and high compressive and flexural strength. Creamy consistency allows for smooth seating and optimal flow. Quick and easy removal with cement that stays in the crown and not on the tooth.
1' 00" - 1' 30" work time,
2' 00" - 3' 00" final set time.
Clinical Evaluations
Integrity TempGrip was evaluated in 530 cases. Product received a 95% clinical rating.
Integrity TempGrip is a zinc oxide, non-eugenol, temporary crown and bridge cement. It is designed for temporary cementation of provisional acrylic and composite indirect restorations, and provisional or trial cementation of ceramic, porcelain, composite, and PFM and all-metal crowns and bridges. The cement has a one-minute working time and a setting time of two to three minutes.
Integrity TempGrip provides an easy solution to mixing and dispensing of temporary cement. Dispensing of the material was highly praised by consultants, due to the auto-mix tips eliminating the need for hand mixing. This system provides easy and reliable dispensing and application, a feature appreciated by consultants. The cement has a fast setting time and easy cleanup of excess at the margins. The working and setting times are ideal. The tooth is easily cleaned after removal of the provisional restoration, as the cement often remains on the provisional restoration and not on the prepared tooth. 80% of the consultants rated Integrity TempGrip as equal to or better than their current temporary cement, 59% would switch to it, and 71% would recommend it to a colleague.
"It cleans up better, dispenses easier, sets quicker."
"No residue on preparation."
"Nice dispensing system, thin viscosity, easy clean up."
"Easy to store in a shallow drawer"
"Easy, easy, easy."
©"The Dental Advisor" October 2008