3M™ RelyX™ Unicem 2 Automix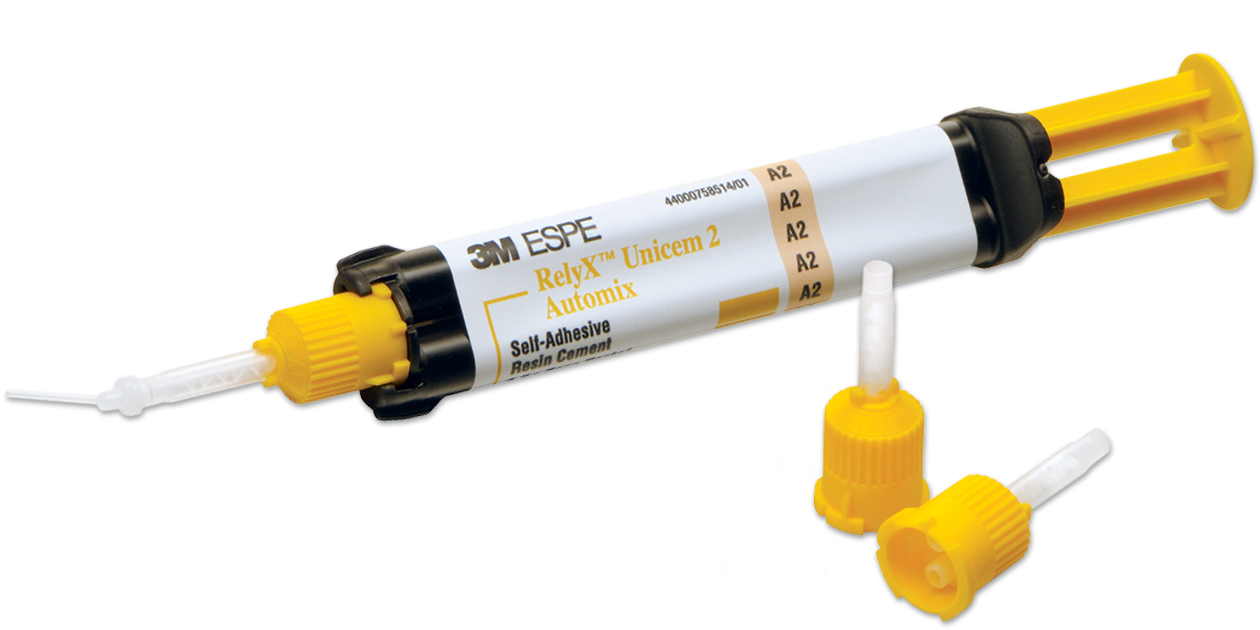 Watch Product Video(s)
Read Product Review(s)
Product Details
Next generation self-adhesive resin cement features enhanced bond strength, mechanical properties, and esthetics. Automix syringe saves time with easy handling and flexible dose dispensing.
With 3M™ RelyX™ Unicem 2 you get:
Resistant to discoloration.
Moisture-tolerant.
Easy removal of excess cement.
Virtually no post-operative sensitivity.
No etching*, priming or bonding required.
*Except for 2- or 3-unit Maryland bridges and 3-unit inlay/onlay bridges, which require selective etching to increase surface area for bonding.
Clinical Evaluations
RelyX Unicem 2 Automix Cement
1-Year Clinical Performance
Description
RelyX Unicem 2 Automix self-adhesive resin cement is a dual-cured, self-adhesive resin cement. It is indicated for final cementation of all-ceramic, composite, or metal inlays, onlays, crowns and bridges, and posts as well as restorations cemented to implant abutments. It is not recommended for veneer cementation. RelyX Unicem 2 Automix cement is based on the same chemistry as RelyX Unicem self adhesive resin cement. The improved formulation offers even more convenience due to its automix delivery system.
Evaluation Protocol
More than 500 restorations were cemented with RelyX Unicem 2 Automix by five dentists at Enspire Dental beginning in August 2010. The restorations include ceramic inlays, onlays, bridges, ceramic and PFM crowns, posts, and CAD/CAM restoration. 145 restorations were recalled and the following categories evaluated: lack of sensitivity, marginal discoloration, and retention (debonding). Each category was rated on a scale of 1-5: 1 = poor, 2 = fair, 3 = good, 4 = very good, 5 = excellent.
Unique Features
3M RelyX Unicem 2 Automix is a versatile cement with easy dispensing. The dual-barrel syringe accepts short mixing tips that minimize waste and dispense the cement directly into the restoration. Angled intraoral tips or endo tips attach to the mixer for placement of cement into the prepared tooth. These tips are especially useful for cementation of inlays/onlays and posts. The shades provided are adequate for most clinical situations. Compared to the original RelyX Unicem packaged in capsules, this material is less viscous, allowing easier seating of restorations. A very brief (1-2 second) tack cure from the facial and lingual surfaces allows for easy clean-up of excess cement. Consultants appreciated the advantage offered by room temperature storage.
Clinical Observations
Lack of Sensitivity: To date only four patients reported slight to moderate post operative sensitivity shortly after cementation. In two cases the post-op sensitivity subsided in less than three weeks and in two patients the crowns debonded shortly after cementation.
Marginal Discoloration: None of the restorations recalled exhibited any marginal discoloration at one year.
Retention: Among the 500 restorations cemented, six posterior crowns (1.2%) debonded over the first 12 months.
Summary
RelyX Unicem 2 Automix received a 98% rating at one year and has performed extremely well.
©"The Dental Advisor" March 2012www.dentaladvisor.com
RelyX Unicem 2 Automix
earned 4.2 stars of a possible 5.0.
Original version has the longest track record in self-adhesive subcategory. Automix simplifies mixing and application, especially with the two different types of tips. Easy to seat and clean-up. Only two evaluators had patients with sensitivity and only one reported any dislodgements during our clinical evaluation. More than adequate working time.
Six month shelf life after opening the foil pouch could be an issue for offices not using it as their only adhesive cement. Have to be sure to record the date the pouch was opened on the syringe, which can be a challenge. Very slow self-cured mode.
Really nice handling and you definitely don't have to rush, but the short shelf life out of the pouch and the long set time under metal-based restorations could have you looking at alternatives.
©REALITY Publishing Company
2/27/12 website update
www.realityratings.com