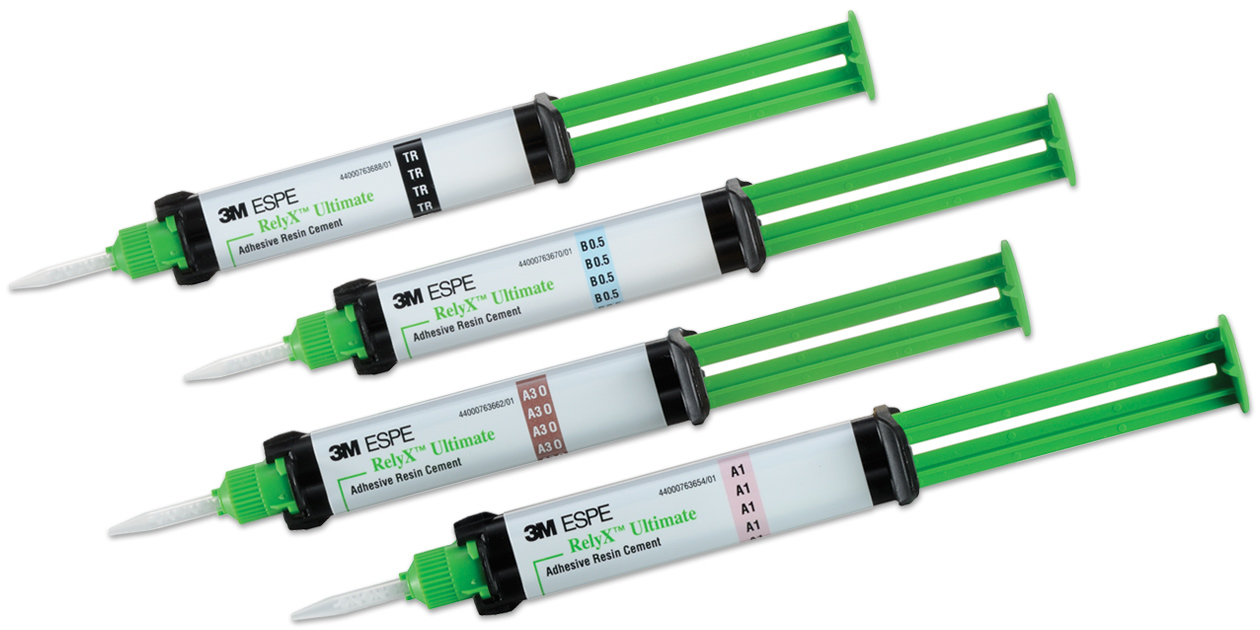 Watch Product Video(s)
Read Product Review(s)
Product Details
Industry-leading bond strength.
World-class esthetics.
Extraordinary versatility.
RelyX Ultimate dual cure adhesive resin cement offers high wear resistance for a secure marginal seal over the lifetime of your restorations. Its durable color stability and tooth-like fluorescence create natural esthetics you''ll be proud of.
Ideal for CAD/CAM and glass ceramic restorations,
plus it''s versatile enough to be indicated for a broad array of indirect applications:
PFMs
Resin nano ceramics
Inlays and onlays
Orthodontic bands and appliances
Posts and screws
Veneers
Composites
Fewer steps; only two components.
All you''ll need is one automix syringe and one bottle when you pair 3M™ RelyX™ Ultimate with 3M™ Scotchbond™ Universal Adhesive. The adhesive acts as a silane agent for glass ceramics, and as a primer for zirconia and metal. No additional primer needed!
The manufacturer has notified Safco this item is on unavailable through the end of February 2021. May we suggest an alternative: Relyx Universal (click here) and Scotchbond Universal Plus Adhesive (click here).
Clinical Evaluations
3M™ RelyX™ Ultimate
5-Year Clinical Performance
Description
RelyX Ultimate Adhesive Resin Cement is an adhesive resin cement available in a dual-barrel syringe with mixing tips for easy mixing and dispensing. Used in conjunction with Scotchbond Universal Adhesive, it results in high bond strength to both enamel and dentin – measured to be over 30 MPa by THE DENTAL ADVISOR.
Unique features
RelyX Ultimate Adhesive Resin Cement includes a component that activates the self-cured function of the bonding agent and eliminates the need for an additional dual-cure activator. Scotchbond Universal Adhesive also functions as a primer for silica-based ceramics, composite, zirconia and metal substrates. It can be used with total etch, selective-etch or sel-fetch bonding techniques. The combination can be used for cementing silica-based ceramic (glass ceramic), zirconia, and PFM and composite restorations including fiber posts.
Clinical Evaluation Protocol
A total of 2,126 restorations were placed over a 5-year period beginning in January 2012 using RelyX Ultimate Adhesive Resin Cement and Scotchbond Universal Adhesive. This included 222 pre-existing restorations that had previously been cemented using a different cement and were recemented with RelyX Ultimate Adhesive Resin Cement.
At 5 years, 1,532 restorations had been recalled. The recalled restorations consisted of 1,331 crowns, and 173 three-to five-unit bridges. The remaining restorations consisted of inlays, onlays, veneers and bridges. 63% of the restorations were in molars, 25% in premolars and 12% in the anterior region. The vast majority of the restorations were zirconia and silica-based ceramic restorations, with the remainder being ceramic-metal restorations.
Results At 5 Years
Resistance to Marginal Discoloration: Resistance to marginal discoloration was rated excellent. Only 19 restorations received a rating lower than 5. 9 had very slight discoloration and received a rating of 4. Of the remaining 10 restorations, 6 were replaced due to tooth failures and the remaining 4 were replaced because they received a rating of 2. Even so, the majority of the restorations received a rating of 5.0 at the 5-year recallperiod.
Retention: Retention was rated excellent. During the 5-year recall period, 26 of 1,532 restorations debonded (1.7% debond rate). Of the 26 debonded restorations, 9 of the debonds were associated with tooth failures not related to the cement. The remaining 17 restorations that debonded were recemented with RelyX Ultimate Adhesive Resin Cement. Overall, the retention rate was high (98%), attesting to the high bond strength of the cement to both restorative materials and tooth structure.
Summary
Over a 5-year period, the clinical performance of RelyX Ultimate Adhesive Resin Cement used with Scotchbond Universal Adhesive was excellent, based on the ratings for resistance to marginal discoloration and retention.
At 5 years, RelyX Ultimate Adhesive Resin Cement received a clinical performance rating of 99%.
Consultants' Comments
" I've been using RelyX Ultimate Adhesive Resin Cement for 5 years and have not been disappointed."
" RelyX Ultimate Adhesive Resin Cement is my go-to cement since its introduction."
" I love using RelyX Ultimate Adhesive Resin Cement for cementing metal and fiber posts, because 3M has a nice extension for the syringe to fill the canal."
" Flash cure for only two seconds to make clean up easier; otherwise, removal of excess cement is time consuming."
©"The Dental Advisor"
March-April 2017
www.dentaladvisor.com