3M™ RelyX™ Luting Plus Clicker™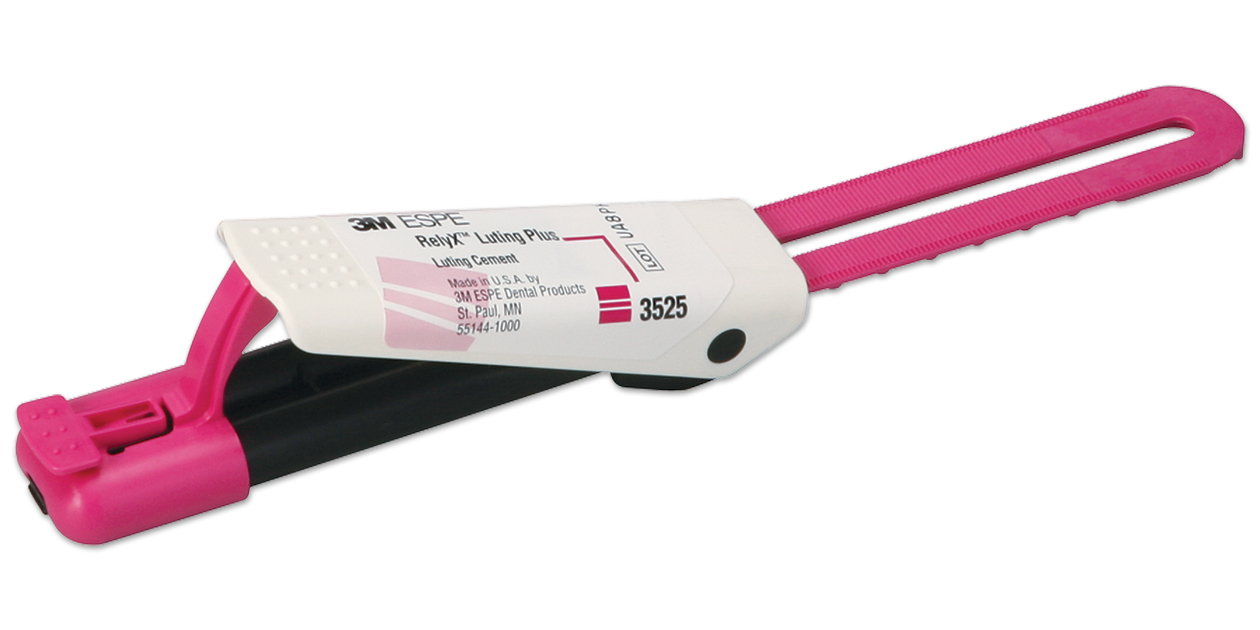 Product Details
Advanced resin-modified glass ionomer formula offers enhanced marginal integrity with low solubility, high strength, and virtually no post-operative sensitivity. Provides sustained fluoride release. Tack light-cure formula permits faster and easier clean-up.
Clicker™ dispenser delivery ensures consistent mix ratios. Simple to mix, load and seat.

Use for routine permanent cementation of:
PFM crowns and bridges, metal crowns, inlays and onlays (including stainless steel crowns).
All-zirconia or all-alumina strengthened core ceramic restorations (such as Lava™ and Procera®).
Endodontic pins and posts.
Orthodontic appliances.
Clinical Evaluations
RelyX Luting Plus was evaluated by 32 consultants in 580 uses. It received a 96% clinical rating
Description
3M RelyX Luting Plus Automix is a radiopaque, fluoride-releasing, resin-modified glass ionomer luting cement. It is self-curing with an option for tack light curing of excess cement for ease of removal. It consists of base and catalyst pastes packaged in an automix syringe. It is available in a white shade. RelyX Luting Plus Automix is indicated for the permanent cementation of ceramic-metal (PFM) crowns and bridges; metal crowns, inlays and onlays; crowns made with alumina zirconia cores; posts; and orthodontic bands and appliances. It is also indicated for the cementation of PFM, metal, all-alumina and all-zirconia restorations on implant abutments. RelyX Luting Plus Automix has a working time of 1.5 minutes from start of mixing. It should be tack light cured for five seconds per surface. It self-cures to a gel-phase in two minutes with a full setting time of five minutes after placement in the mouth.
Product Features
RelyX Luting Plus Automix is an excellent cement for use with metal-, alumina- or zirconia-based restorations. The automix delivery is convenient and easy-to-use, providing a homogeneous mix every time. The consistency is creamy with a low viscosity that allows complete seating of the restoration with little pressure. The ability to tack cure the cement for quick clean-up of excess cement was a favorite feature of consultants. One color, white, is available. Some consultants expressed a desire for a more neutral shade for use under translucent all-zirconia crowns.
53% of consultants reported that RelyX Luting Plus Automix was better than their current resin-modified glass ionomer luting cement and 44% reported it was equivalent. 88% of consultants would switch to RelyX Luting Plus Automix and 97% would recommend it.
Clinical Tips
Ensure the tooth is not desiccated before cementation to minimize sensitivity.
Tack curing speeds the clean-up process. Always remove the excess cement before complete setting.
Consultants' Comments
"Best all-around post/crown cement. I need to have this in my 'tool box'."
"Easy clean-up during the gel stage."
"No post-operative sensitivity."
"Works great with stainless steel crowns on primary teeth."
"No refrigeration is required."
"Work quickly to avoid cement gelling before seating the restoration."
©"The Dental Advisor" The Dental Advisor June 2012 www.dentaladvisor.com
RelyX Luting Plus
earned 4.5 stars out of a possible 5.0.
Paste-paste, making it much easier to mix than powder/liquid. Hand mixed version utilizes the Clicker dispenser, which takes guesswork out of how much to dispense for a particular use. This will inevitably save money by eliminating waste by overdispensing. Mixes easily and loads into restorations without any problems, assuming you are aware that it retains the mousse-like consistency of the original version. This means that it won''t just flow by itself into a restoration--you must load a crown, for example, as if you are applying frosting to a cake. It just doesn''t seem like it is wetting out the inside of the crown. Regardless of what seems like a thicker consistency, it still allows seating without any significant resistance. Automix version is dual-cured and facilitates fast clean-up. No restorations dislodged during the evaluation phase and no post-luting sensitivity was reported. There is more than adequate working time, even for bridges.
Set time is slow for self-cured version. It is moderately opaque and could cause a white cement line at an exposed butt joint ceramic margin. Expensive.
Best for long span bridges and multiple units due to extended working and setting time and option of using the hand-mixed or automix versions makes it even better.
©REALITY Publishing Company
2/27/12 website update
www.realityratings.com