Multilink® Automix
(Made in Liechtenstein.)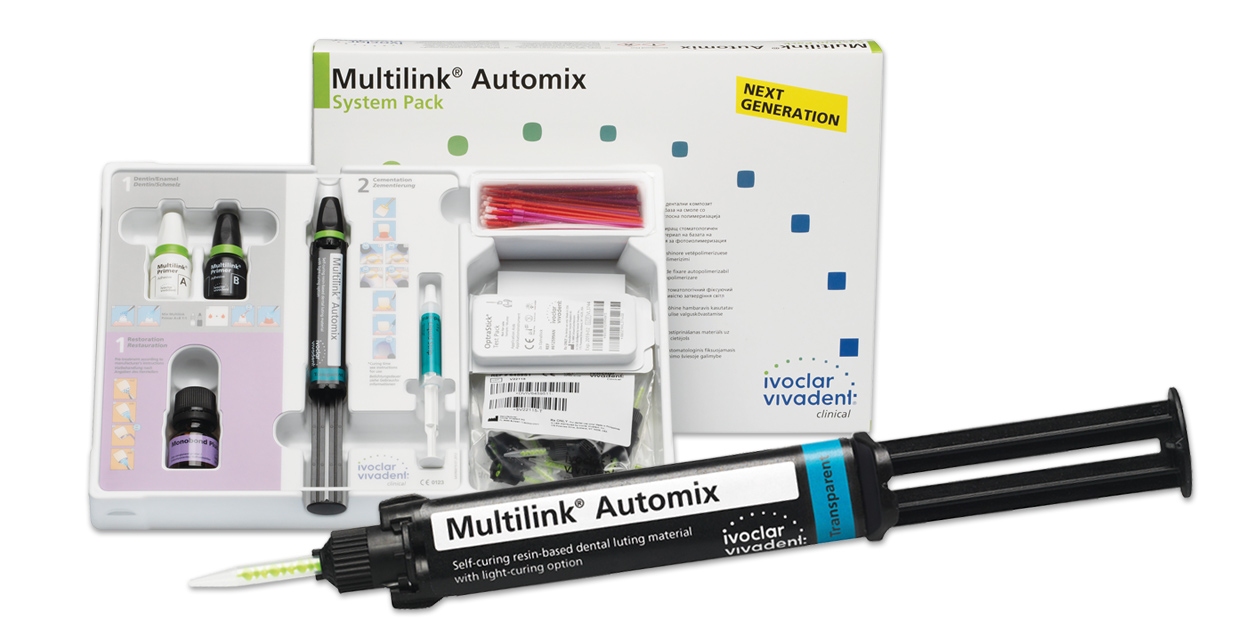 Watch Product Video(s)
Read Product Review(s)
Product Details
Self-etching dual cure resin cement designed for all indirect restorations including strengthened-core posts fabricated from zirconia and metal based restorations. Automix dual syringe dispenser.
Clinical Evaluations
Multilink Automix
4-year Clinical Performance
Multilink Automix is a self-cured with optional light-cured adhesive resin cement with a self-curing and self-etching primer. Suggested applications include adhesive cementation of indirect restorations made of all-ceramic (zirconia, aluminum oxide, and glass ceramics), metal, metal-ceramic, and fiber-reinforced composite. The use of Monobond Plus, a universal restorative primer, is recommended to achieve a stronger bond to all types of restorative materials.
Multilink Automix is available in 4 shades with different degrees of translucency: transparent (high), yellow (high), white (medium), and opaque (low). Try-in pastes are now available along with an Air Block Liquid Strip to protect the cement line from oxygen exposure during the curing process.
Clinical Evaluation Protocol
407 restorations cemented with Multilink Automix were recalled at 4 years. 201 were luecite-reinforced, 173 lithium disilicate, 25 zirconia-based, 7 ceramic-metal, and 1 resin-based. 59% of the cases were full crowns, 39% inlays/onlays, and 2% bridges. Age of the restorations at time of recall: 87=4 years, 119=3-4 years, 107=2-3 years, 57=1-2 years, and 37 less than 1 year. At recall, restorations were evaluated for resistance to marginal discoloration and retention on a 1-5 rating scale:
1=poor, 2=fair, 3=good, 4=very good, 5=excellent.


Esthetics:
Multilink Automix maintained excellent color stability in 100% of restorations placed over the 4-year evaluation period, ensuring optimal esthetics of the restoration.
Lack of Sensitivity:
Lack of sensitivity was rated excellent. No additional postoperative sensitivity was reported between years three and four. Resistance to Marginal Discoloration: Resistance to marginal discoloration was rated excellent at 4 years. 5 restorations exhibited staining or graying at the margins. The color of nearly 99% of the restorations has been stable with almost no evidence of microleakage.
Retention:
Retention was rated excellent with an adjusted debond rate of 2.7%. 16 restorations debonded during the past 4 years. These restorations included 10 lithium disilicate restorations; 4 ceramic-veneered zirconia restorations, 1 of which was a 3-unit bridge; and 2 leucite-reinforced restorations.
5 of these restorations debonded with the core in the restoration and 1 restoration had a short preparation.
Summary
407 restorations, cemented with Multilink Automix, recalled at 4 years. The restorations continue to exhibit excellent esthetics, excellent lack of postoperative sensitivity, very good resistance to marginal staining and excellent retention.
Clinicians feel confident about the longevity of the restorations they cement with this product. Multilink Automix received a 98% clinical performance rating.


"4 years of excellent data makes me confident about the long-term success of my restorations cemented with Multilink Automix."
"Based on the long term success of the proceeding generations, I will be trying the Multilink Automix."
"The debond rate of my restorations is minimal as a result of using this excellent cement."
"Of the 407 restorations recalled, it gives me great confidence to know that over 400 showed no signs of microleakage."
©"The Dental Advisor" July-August 2014