Maxcem Elite™ Chroma
(Made in USA.)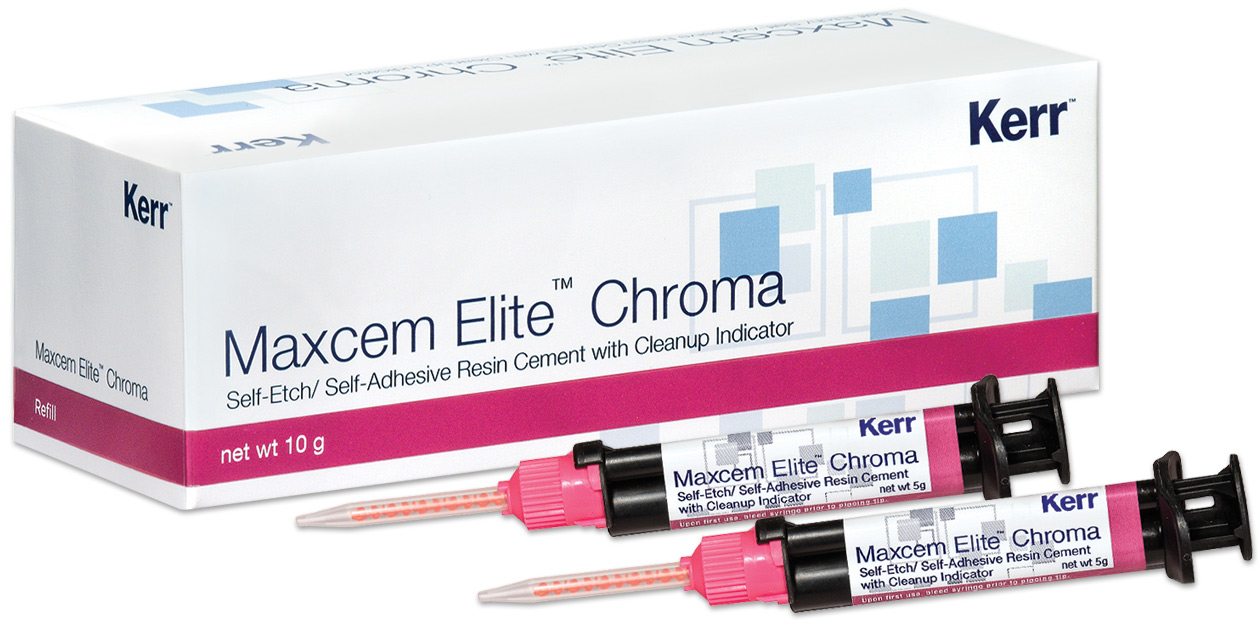 Watch Product Video(s)
Read Product Review(s)
Free item will be of equal or lesser value to lowest price purchase item.
Product Details
Smart cement changes color when it's time to clean up!

Dual cure, self-etch/self-adhesive resin cement offers the same great features as the original Maxcem Elite plus:
Color Cleanup Indicator™ fades from pink to cement shade at the gel state, indicating the optimal time to clean up any excess.
Easy One-Peel™ cleanup.
Best in class adhesion when compared to other leading self-adhesive cements.
Compatible with all indirect restorations.
Clinical Evaluations
Maxcem Elite Chroma
was evaluated by 23 consultants. It received a 96% clinical rating.
Description
Maxcem Elite Chroma is a self-etch, self-adhesive dual cure resin cement. It includes a color clean-up indicator, dispensing pink before fading at the gel state and thereby indicating the optimal time for removal of excess cement.
A gel state is achieved in 2 to 3 minutes in self-curing mode or in 2 to 3 seconds if tack cured, and the One-Peel™ Cleanup results in clean-up being achieved by peeling excess cement away while it is in the gel state. After light curing, the cement should be left for 4 minutes to cure under opaque restorations.
This cement should not be used on patients who are allergic to methacrylate resin and the cement should not come into contact with the pulp. Maxcem Elite Chroma is delivered in a dual-barrel automix delivery system.
Unique Features
Color clean-up indicator.
Dual barrel automix delivery system.
No refrigeration is required.
Evaluation Highlights
Easy to dispense and use.
Good working time.
Color change indicator for gel phase.
Cement peels away during clean-up in gel phase.
Suitable for all indirect restorative materials.
48% of consultants found Maxcem Elite Chroma to be better than competitive products, 43% to be equivalent, and 9% to be worse. 43% said they would purchase Maxcem Elite Chroma instead of their current product; 39% would purchase it in addition to their current product; 18% would not purchase it.
Clinical Tips
It sets fast in the mouth - don't go by the cement's color change on the tray.
No need to seat quickly - it has a nice working time and is not particularly light sensitive.
The time from tack-cure to strong set is short. Tack cure of 2 to 3 seconds works well for clean-up.
Until the cement sets, its color indicator temporarily makes crowns appear light pink.
Knot floss to remove interproximal cement.
Consultants'' Comments
"The color change indicator is helpful."
"The viscosity is great for complete seating of the restoration."
" Clean-up is simple. I found it remarkably easy to remove cement interproximally."
"I like the product a lot - post-operative sensitivity is non-existent."
"Not much cement, and the long mixing tips are not a universal fit."
©"The Dental Advisor"
November-December 2017 www.dentaladvisor.com