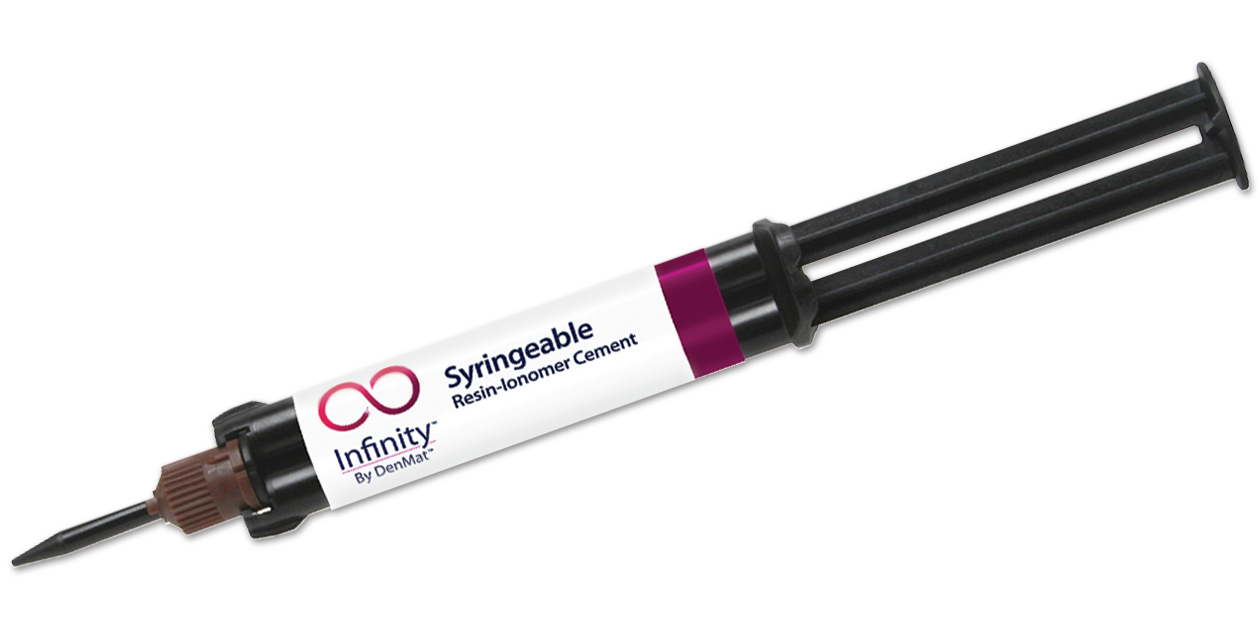 Product Details
Dual cure, fluoride-releasing, self-adhesive resin cement. Convenient automix syringe speeds placement and minimizes waste. Indicated for cementation of porcelain-metal, zirconium, all ceramic, resin and ceramic inlays/onlays, cast metal, ortho bands and brackets, Maryland bridges, and all types of posts. Prevents post-operative sensitivity.
Refrigeration suggested; this product is stored under refrigeration at Safco.
Clinical Evaluations
Infinity Syringeable
was evaluated by 21 consultants in 240 clinical cases. Infinity Syringeable is a highly recommended, dual-cured resin-ionomer cement for crown and bridge cementation. This product received a 91% rating.
Infinity Syringeable is a modification of Infinity, previously evaluated in The Dental Advisor Plus, Vol. 5, No. 4, July/August 1995. The new formulation is packaged in a 10-g dual-chamber, automix syringe with 10 mixing tips and laminated instruction cards. The cement is an insoluble resin system that contains fluoride, is radiopaque and is available in 1 neutral shade. It may be used with Tenure Multipurpose Bonding System or most other dual-cured bonding agents. It is recommended for cementaion of gold, porcelain-fused-to-metal and indirect composite restorations. Infinity Syringeable may also be used for amalgam bonding and the cementation of all ceramic restorations.
The dispensing system for Infinity Syringeable produces a uniform mix of cement with good viscosity for easy placement into crowns. The mixing tips are short with a narrow diameter to reduce waste. Working time is adequate for 1 or 2 restorations with a setting time of 2-3 minutes. Removal of excess cement prior to set is easily accomplished when the cement reaches a gel stage at 1 minute after the start of mix. There were no reports of post-operative sensitivity.
81% of consultants stated that they would purchase Infinity Syringeable,
and 90% would recommend it.
"Quick, easy delivery with excellent consistency."
"Mixing tips are very good for placing cement into preparations
and post space."
"So far, no sensitivity."
©"The Dental Advisor" December 2002