FujiCem™ 2
(Made in Japan.)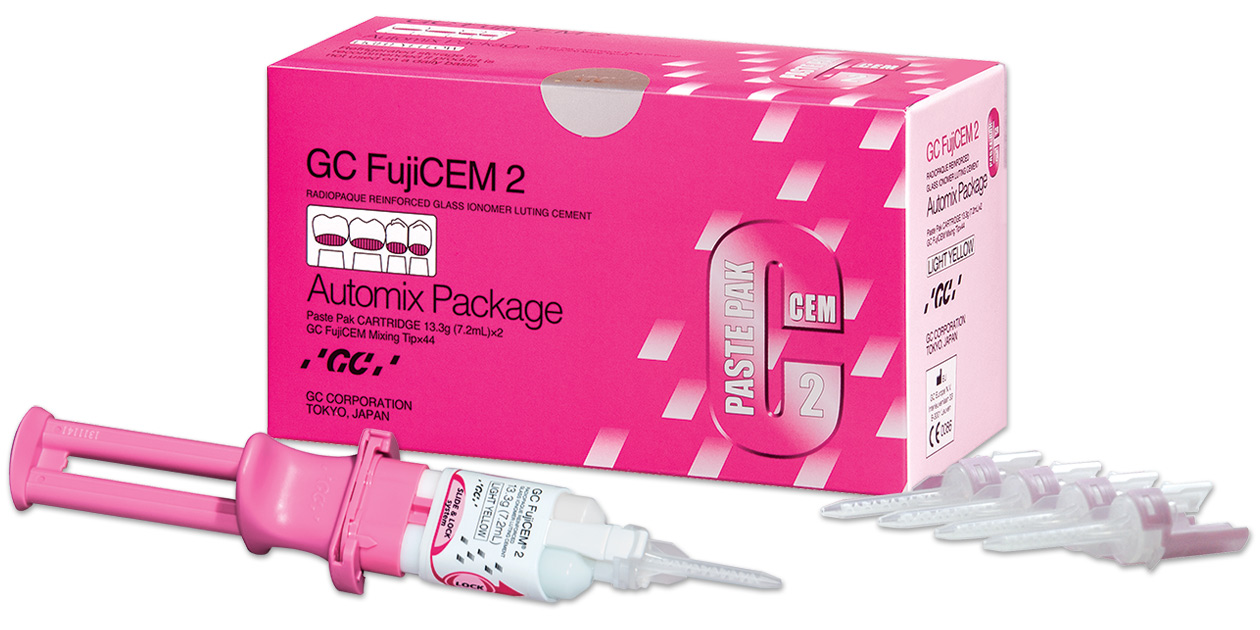 Watch Product Video(s)
Read Product Review(s)
Free item will be of equal or lesser value to lowest price purchase item.
Product Details
Next generation resin reinforced glass ionomer luting cement. Powered by F2 Flex Fuse Technology to increase strength properties all around. Extended working time for multiple restorations. Features the Slide & Lock system: the barrel slides up to lock with the automix tip. Light yellow paste; radiopaque.
The material boasts the following key properties:
Strong retention

– High bond, compressive, and flexural strength provides the maximum adhesion to tooth structure for indirect restorations.

Superior chemical bonding

– Exceptional sealing ability minimizes the risk of microleakage and secondary caries.

Sustained, rechargeable fluoride release

– Designed to protect tooth structure against recurring caries.

No post-operative sensitivity

– Formula will not irritate tooth structure or surrounding soft tissue.

Extremely thin film thickness

– The creamy, yet non-runny mixture allows for stress-free seating of restorations with easy clean up.
The new ultra-light FujiCem 2 plunger-style dispenser is constructed of sturdy plastic, and weighs 85% less than the original metal dispenser.
Reviews
2-year Clinical Performance
GC FujiCEM 2 is a resin-modified glass ionomer luting cement. Compared to original GC FujiCEM, it has increased bond strength to tooth structure and restorative materials. GC FujiCEM 2 is indicated for permanent cementation of all types of metal-, resin-, alumina- and zirconia-based inlays, onlays, crowns, bridges, and endodontic posts. Working time is two minutes 15 seconds, and intraoral setting time is four minutes and 30 seconds.
Clinical Evaluation Protocol
130 all-ceramic restorations, cemented with GC FujiCEM 2, were recalled at two years. Restorations included 104 zirconia and lithium disilicate crowns, 17 bridge units, 6 implant crowns, and 3 implant bridge units.
Esthetics: The color stability of GC FujiCEM 2 was rated excellent, ensuring optimal esthetics of the restoration.

Retention: GC FujiCEM 2 was rated excellent when used to cement zirconia and lithium disilicate restorations in this study. Only six (<5%) of these restorations debonded in the past two years.

Resistance to Marginal Discoloration: The resistance to marginal discoloration was rated excellent. There was minimal discoloration that might indicate microleakage.

Lack of Postoperative Sensitivity: The majority of patients reported no sensitivity. Four patients (3%) indicated there was some initial mild sensitivity that resolved within a few months.
130 all-ceramic restorations, cemented with GC FujiCEM 2, were recalled at two-years. GC FujiCEM 2 received excellent ratings for esthetics, resistance to marginal discoloration, lack of postoperative sensitivity, and retention. Less than 5% of all restorations debonded during the first two years in service. These long-term clinical results provide confidence in this resin-modified glass ionomer. GC FujiCEM 2 received a 98% clinical performance rating at two years.
"I am pleased with the esthetics and color stability in the restorations cemented with GC FujiCEM 2."
"The lack of sensitivity is very important."
"Retention is everything. I was very pleased to see so few debonds with this resin-modified glass ionomer."
"No problems with this crown."
"It feels good and looks good."
"I had some sensitivity at first but it went away quickly. It has been fine."
©"The Dental Advisor" July - August 2015