3M™ RelyX™ Universal Resin Cement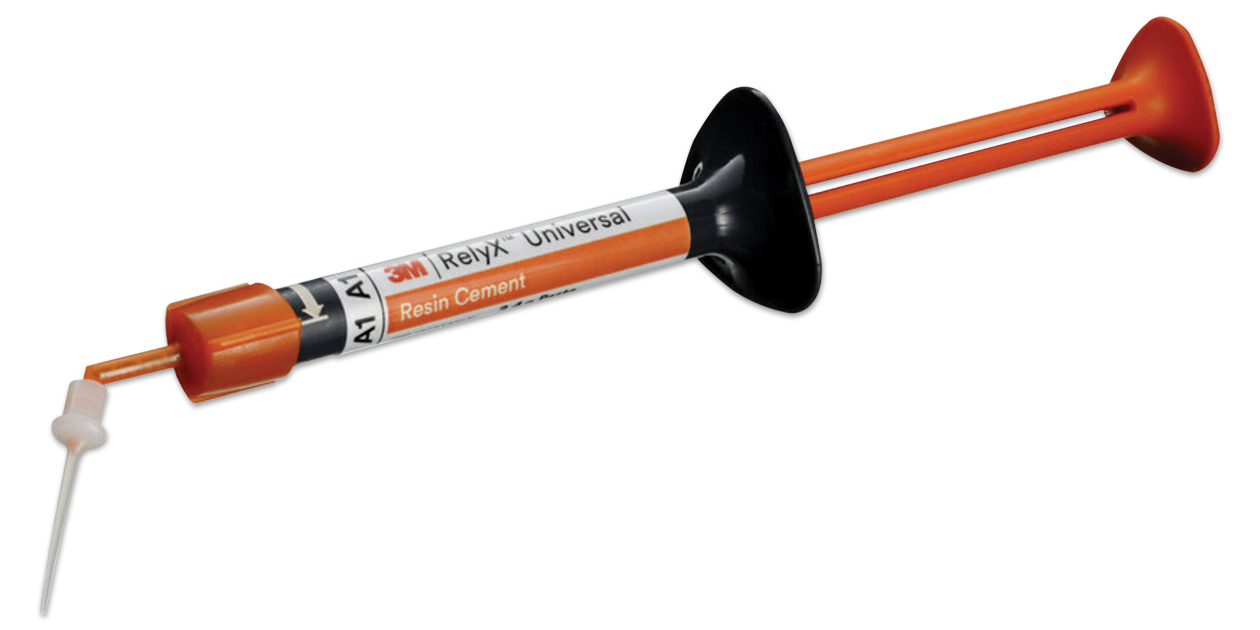 Free item will be of equal or lesser value to lowest price purchase item.
Product Details
Universal dual-cure resin cement for virtually all adhesives and self-adhesive indications. Works great as a standalone, self-adhesive cement, plus further enhanced bond strength to all substrates when combined with 3M Scotchbond Universal Plus Adhesive. Covers virtually all resin cement indications including veneers, inlays and onlays, crowns, bridges, posts and screws.
Excellent bond strength.
High esthetics by color-stable, fluorescent shades.
Easy clean-up.
Unique self-sealing automix syringe with exclusive micro mixing tips minimizes cement waste by 80% over other automix tips* - you get 15 applications** from one 3.4g syringe!
*per application compared to currently available standard automix systems.
**on average
Clinical Evaluations
3M RelyX Universal Resin Cement was evaluated by 12 dental professionals in 435 cases. It received a 99% clinical rating.
Description
3M RelyX Universal Cement is a dual-cure universal cement with an innovative syringe design.
It can be used in either the adhesive or self-adhesive mode for cementation.
Kit contains 3M™ Scotchbond™ Universal Plus Adhesive for adhesive cementation.
Available in shades A1, W0, A30, and TR (Translucent), which coordinate with the 3M™ RelyX™ Try-In Pastes.
Adhesive strength can be enhanced further with the use of 35% phosphoric acid.
Product Features
Redesigned tip significantly reduces wasted material in the mixing tip.|
Truly a universal cement as it can be used in wither Adhesive or Self-Adhesive mode and used for any substrate.
100% of consultants would recommend 3M RelyX Universal Resin Cement to a colleague. 44% would want to stock this instead of their current product, while 56% would want to stock this in addition to their current product.
Clinical Tips
Do not allow cement to cure too much when tack curing or it will be very difficult to remove excess.
Extrude from tip slowly with light pressure.
The most difficult thing about resin is cleaning up interproximally. Clean interproximal areas first, whenever possible.
Consultants'' Comments
"The syringe is super comfortable to hold and has an indicator on the plunger to show when it is empty.
"It''s great to have one cement with options for self-adhesive and adhesive bonding."
"The unique mixing tip allows for minimal waste."
"The new syringe and tip are a wonderful combination! Excellent engineering."|
"Having one material to use for all cases is great."
"The 6-minute wait for self-cure is my only complaint."
"The choice of shades was helpful."
©"The Dental Advisor"
January-February 2021 www.dentaladvisor.com