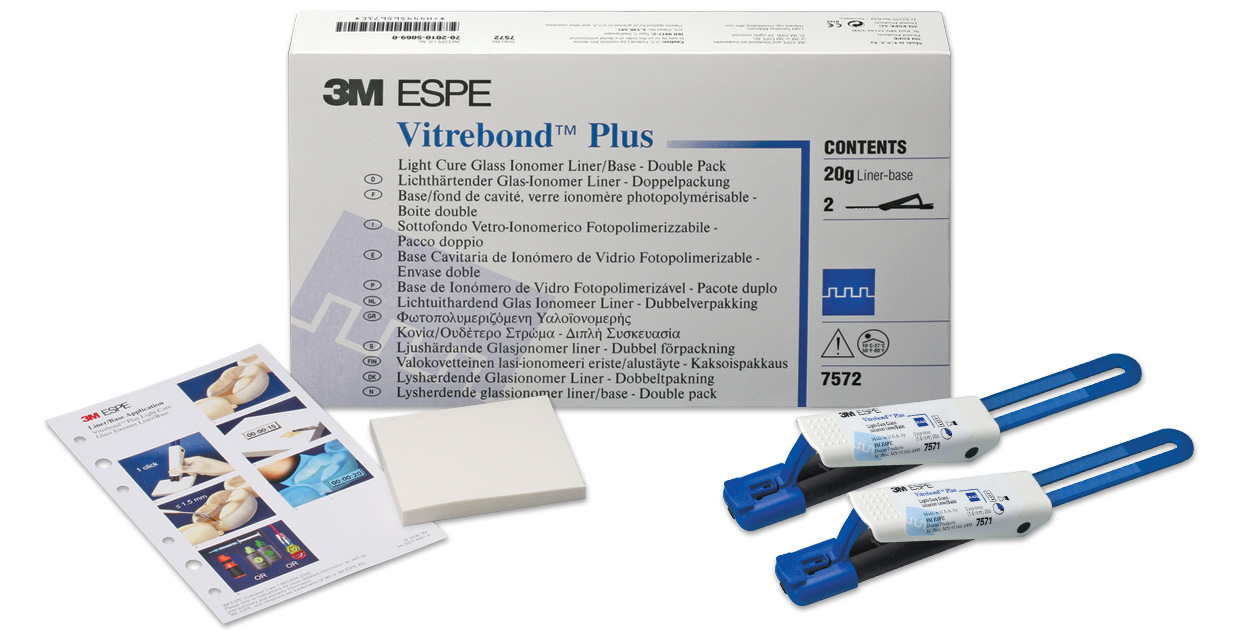 Product Details
Light-cured, resin-modified paste-liquid glass ionomer base/liner protects like a conventional glass ionomer liner without the mess of measuring.
Sustained fluoride release.
Strong bond to dentin seals tooth to protect against microleakage.
Protects against post-operative sensitivity.
Greater ability to reduce the effects of polymerization shrinkage than flowable liners (when tested using 3M™ Filtek™ Z250 Universal Restorative).
Fluoride release of a true glass ionomer.
Clicker™ Dispenser provides fast, easy dispensing, and the right mix every time. No need for mixer, activator, applier, mixing tips, or any other devices.
Clinical Evaluations
Vitrebond Plus
was evaluated by 27 consultants in over 250 applications. This product received a 96% rating.
3M ESPE Vitrebond Plus is a light-cured, resin-modified glass ionomer base/liner. It is packaged in The Clicker Dispensing System, which provides simultaneous dispensing of the two components of this liquid paste system. The composition is based on the original Vitrebond powder/liquid material. The liquid contains a modified polyalkenoic acid.


Vitrebond Plus provides the major benefits of glass ionomer cements including adhesion to tooth structure and sustained fluoride release. Additionally, Vitrebond Plus offers a combination of a 2:30 working time with a short setting time achieved by light curing (20 seconds).


Overall, consultants found Vitrebond Plus to be an excellent product. The manufacturer's instructions were found to be clear, and the packaging to be simple and straightforward. The Clicker Dispensing System allows for very easy dispensing followed by hand mixing. Additionally, consultants appreciated the ability to light cure the material and reported the working and setting times to be good. Although all consultants appreciated the even mix of the material, several found the viscosity of the material slightly too flowable. There were no reports of post-operative sensitivity with the use of Vitrebond Plus.


96% of consultants found Vitrebond Plus to be equal to or better than their current liner/base. 74% of consultants would switch to Vitrebond Plus, and 96% would recommend it to colleagues.


Use Vitrebond Plus for the initial cervical portion of Class V restorations. It adheres to dentin without phosphoric acid etching while providing fluoride release for future caries control and a dentin shade for esthetics.
A small ball-tipped instrument is perfect for applying the product.
Vitrebond Plus should not be used in patients with a known acrylate allergy and is contraindicated for direct pulp capping.

Consultants' Comments
"Lowers sensitivity and takes the worry out of deep fillings."
"Excellent product! A pre-measured amount allows a better mix."
"Material is a universal dentin shade."
"Include a two-sided instrument for mixing and application."
©"The Dental Advisor" November 2006
Vitrebond Plus
earned 4.4 stars out of a possible 5.0.
Paste/liquid much better than powder-liquid of the original version. Mixes easily, consistent dispensing, easy application, dentin-like color, plenty of working time.
Not auto-mixed, still a little sticky.
Ease of use takes it to the top.
©REALITY Publishing Company
2/28/12 website update
www.realityratings.com