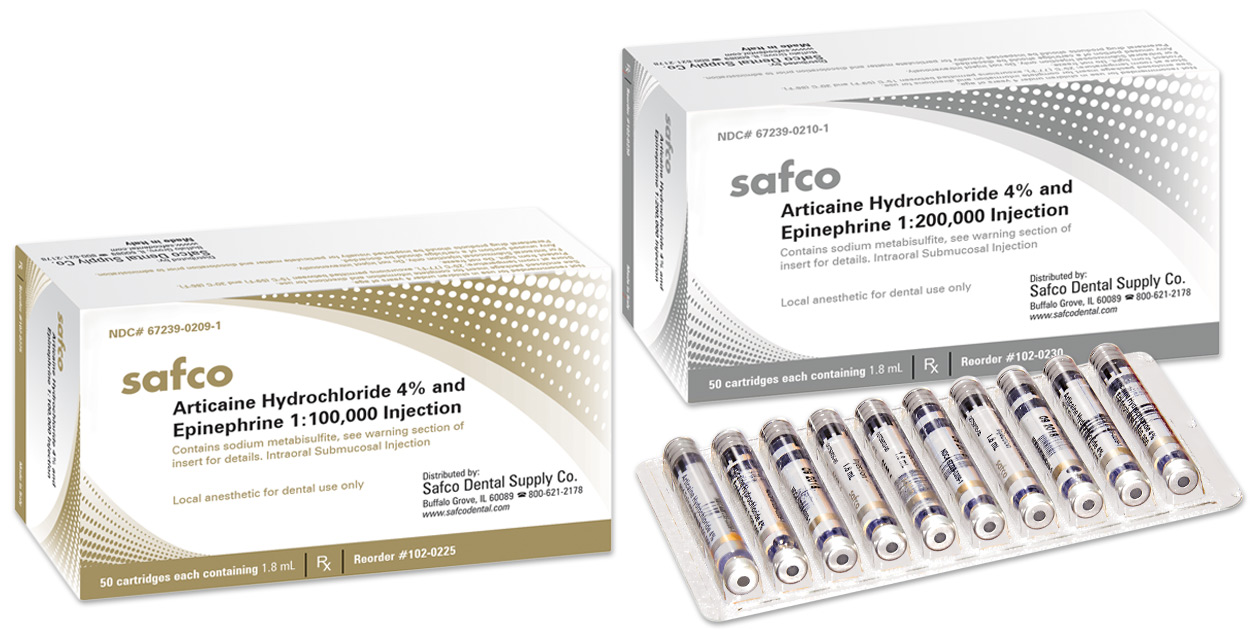 Product Details
Articaine HCl 4% and epinephrine injection. 1.8ml cartridges.
Product Features:
Indicated for local, infiltrative, or conductive anesthesia in both simple and complex dental procedures.
Rapid onset of anesthesia within 1 – 9 minutes.
Complete anesthesia lasts about 1 hour for infiltrations, up to 2 hours for nerve block.
Risk information:
Safco Articaine contains sodium metabisulfite. Safco Articaine is contraindicated in patients who are hypersensitive to products containing sulfites. Products containing sulfites may cause allergic-type reactions including anaphylactic symptoms and life-threatening or less severe asthmatic episodes. Care should be taken to avoid accidental intravascular injection, which may be associated with convulsions followed by coma and respiratory arrest. Local anesthetic solutions that contain a vasoconstrictor should be used cautiously, especially in patients with impaired cardiovascular function or vascular disease. Administration of Safco Articaine results in a 3 to 5 fold increase in plasma epinephrine concentration compared to baseline. However, in healthy adults it does not appear to be associated with marked increases in blood pressure or heart rate, except in the case of accidental intravascular injection. The most common adverse reactions (incidence >2%) are headache and pain. Inform patients in advance of the possibility of temporary loss of sensation and muscle function during infiltration and nerve block injections. Instruct patients not to eat or drink until normal sensation returns.