Aquasil™ Ultra 50ml cartridges with B4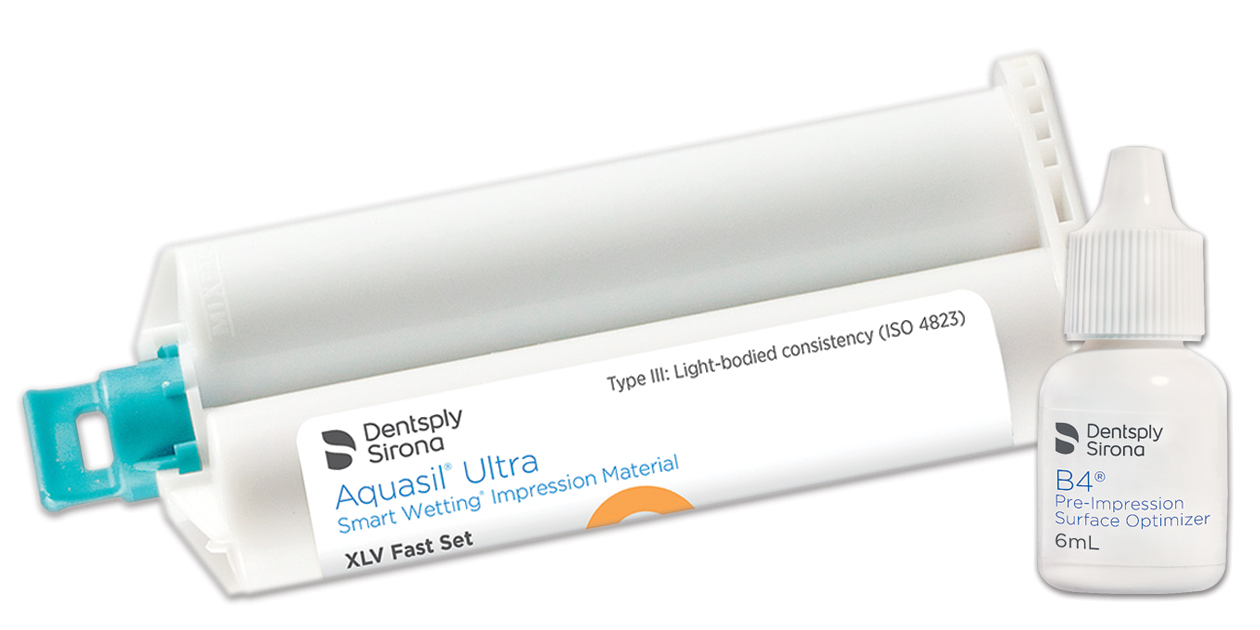 Product Details
Smart Wetting® impression wash material uniquely formulated to minimize voids and bubbles. Pleasant mint scent.
B4 Pre-Impression Surface Optimizer works with Aquasil Ultra wash materials to reduce surface tension, improving flowability into hard-to-reach areas for excellent detail reproduction.
Extremely low contact angle allows material to capture detail in a moist oral field.
Hydrophilicity allows for better adaptation to tooth structure and sulcus.
Outstanding tear strength keeps impression from tearing or distorting during removal from mouth or separation from model.
Uses DS 50 gun marked 1:1/2:1.
| | | |
| --- | --- | --- |
| | Working time | Mouth removal time |
| Regular set | 2:15 - 2:45 | 5:00 |
| Fast set | 1:15 - 1:45 | 3:00 |
Clinical Evaluations
Aquasil Ultra
earned 4.7 stars out of a possible 5.0.
Choices of XLV high flow syringe material (completely filling the shark fin) or LV with less flow, heavy or rigid for the tray (rigid registered the high hardness scores, making it well-suited for closed bite impressions), cartridges or DECA for tray material, regular, fast, superfast and Xtra setting options, and digit unit dose, which comes in two sizes. One study shows it to have among the highest tear strength of any impression material (including polyether) and its contact angle is comparable to that of hydrocolloid. With wet teeth, it seems to behave differently, registering subgingival preparations with more reliability. When you use it, the preparations should actually be glistening with water, similar to the wet protocol we use for adhesives. The mint flavor and aroma is a plus for most patients.
Some evaluators reported they still experienced marginal tears, despite its high tear strength. One evaluator felt the heavy consistency had excessive flow for a tray material and could cause gagging. Digit is a step in the right direction, but it is not totally disposable— you still have to clean and sterilize the dispenser. Expensive.
With the addition of the superfast version, it has widened its lead over the pack and is still the impression material that sets the standards for excellence.
©REALITY Publishing Company
7/12/13 website update
www.realityratings.com