430 SWL and 430 SW Torque handpieces
(Made in USA.)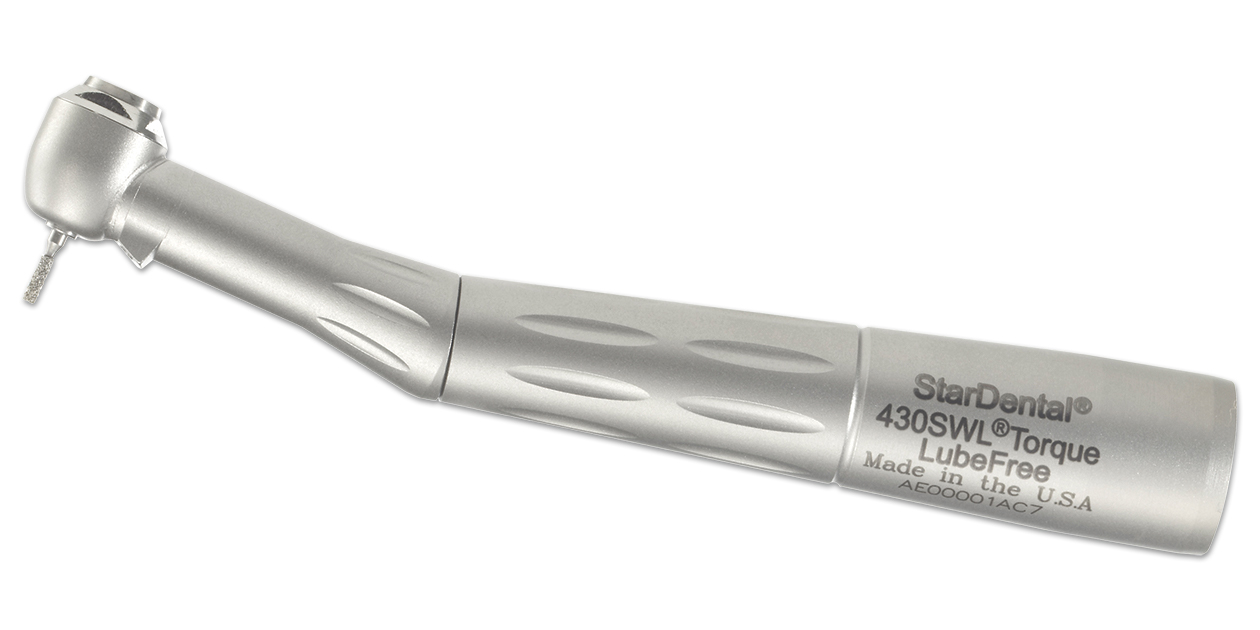 Watch Product Video(s)
Read Product Review(s)
To qualify for this free offer, you must purchase 2 of the same item
number.
Product Details
Delivers 27 watts of power, enough for all procedures. Small head and ergonomic design allow for a neutral wrist position to minimize hand fatigue.
The 430 SWL Torque and 430SW Torque handpieces feature:
Lube-free operation saves out-of-service time and money on maintenance.
Small head size and shape offers superior operatory field visibility.
Dual drive air control maximizes airflow to the turbine, delivering powerful performance.
Unique washer is designed to minimize debris "suck back" into the housing, preventing turbine damage.
Co-axial water spray optimizes the water pressure and direction of the spray, cooling the bur and flushing the operatory site.
100% stainless steel body construction for durability with a stylish satin finish.
Warranty: 1 year, excluding o-rings and seals.


Safco Complete Satisfaction Guarantee
You are welcome to use the 430 SWL and 430 SW Torque handpieces on a complete satisfaction guarantee basis; if you are not fully satisfied with this product,
return it within 30 days for a complete refund.
You may use one in your office on a trial basis; however, we can only accept the return of one unit in used condition.
Reviews
The 430SWL Torque handpiece
was evaluated by 10 consultants for a total of 478 times.
Description
The 430SWL Torque handpiece from StarDental® is a light-weight, air-driven handpiece with solid glass rod fiber optics. It contains ceramic bearings that are lube-free, and the autochuck provides for quick bur changing. The small head size (11 mm) offers improved accessibility and visibility. In addition, the high torque is designed to improve speed while lowering the decibel level. The 430SWL Torque handpiece is designed to fit a 360° quick connect swivel and is constructed of electropolished stainless steel for strength and durability.
Product Features
Lightweight handpiece with a small head.
Unique coupler.
LubeFree design eliminates the need for lubrication during reprocessing.
Unique, scalloped handle design and stain finish for comfortable, secure grip.
Consultants' Comments
"This is a very nice handpiece with a small head size and good torque. It is light, handles well and allows for good visibility and accessibility."
"The cleansability of the air water port and light is good."
"Good, small handpiece for crown preps."
"I really like the convenience of lube-free."
"Very nice handpiece provided the existing coupling tube is in proper sync."
"I started to look forward to this handpiece being in my set up."
©"The Dental Advisor" September - October 2017www.dentaladvisor.com