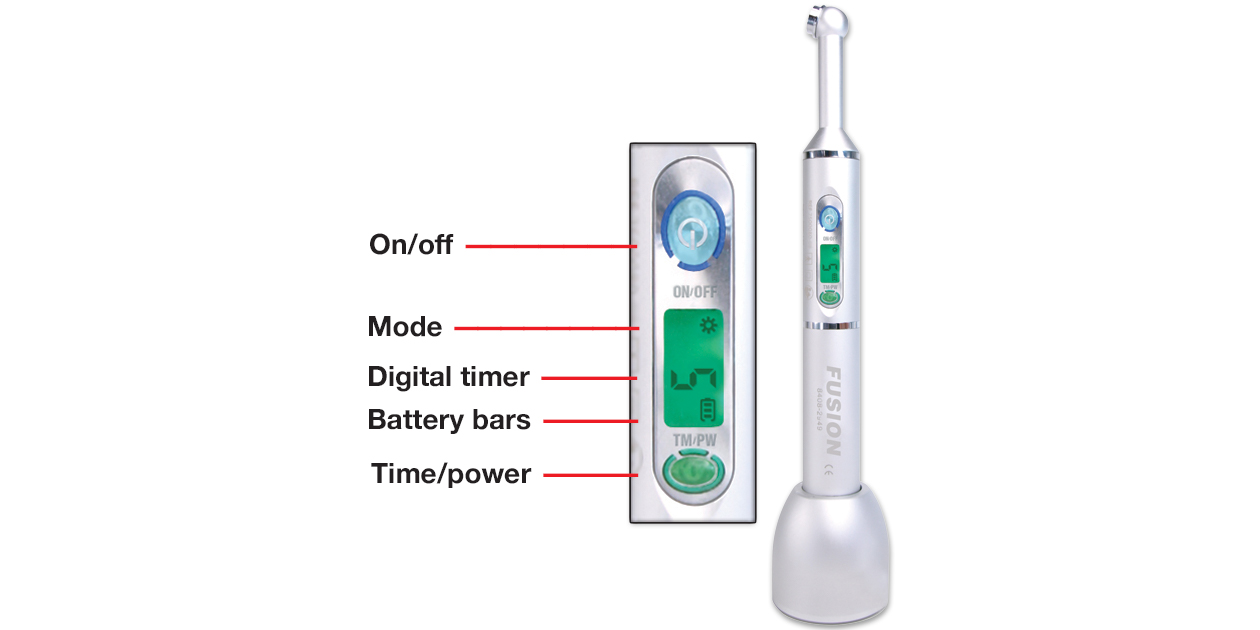 Product Details
Enhanced functionality delivers a focused, low-dispersion beam of 2,700 mW/cm2 high power for bulk or 5 second cure and 1,300 mW/cm2 pulse power for low shrinkage cure. Small, sleek and well-balanced, Fusion 4 is made of solid aircraft aluminum with drop-proof reliability and ease of disinfection.
Plasma-equivalent cure speed
5 second cures of all composites access in the oral cavity
Easier to use and better ergonomics with two raised buttons, including a large ON/OFF button for easy activation
Upgraded LCD with multi-color backlight for power mode display
Solid metal construction with improved shock proof durability
Retro-compatible modular design
Cordless or corded with replaceable battery

Specifications:
Broadband wavelength
420-490 nm
Light intensity
2,700 mW/cm2
Max. curing time (composites)
20 sec
Recommended curing time (A3 and lighter shades)
5 sec
Preset programs
6 Programs
High Power: 5 and 10 sec
Pulse Power: 5, 10, 20, 60 sec
Light probe
3mm, 9mm, 13mm
Weight
3.9 oz. (110g)
Power supply
Lithium ion battery (user replaceable)
Capacity: 40 min. (high power)
Charging time: approx 90 min.
Manufacturer''s warranty
2 years (curing unit and power adapter); 1 year (battery and charging stand)
Safco Complete Satisfaction Guarantee
You are welcome to use the Fusion 4 LED curing light on a complete satisfaction guarantee basis; if you are not fully satisfied with this product,
return it within 30 days for a complete refund.
You may use one in your office on a trial basis; however, we can only accept the return of one unit in used condition.
Reviews
Fusion 5 Curing Light was evaluated by 13 consultants with an average of 85 uses per consultant. It received a 91% clinical rating.
Consultants' Comments
"Great curing light and its low weight is impressive."
" Convenient cordless feature."
" I liked the ability to customize the curing time and curing light intensity."
" The shape of the light makes it very easy to use, even interproximally."
" Buy this light!"
" Angulation and reaching the molars was awkward; otherwise, I loved this curing light."
©"The Dental Advisor" March-April 2017