Tetric EvoCeram® Bulk Fill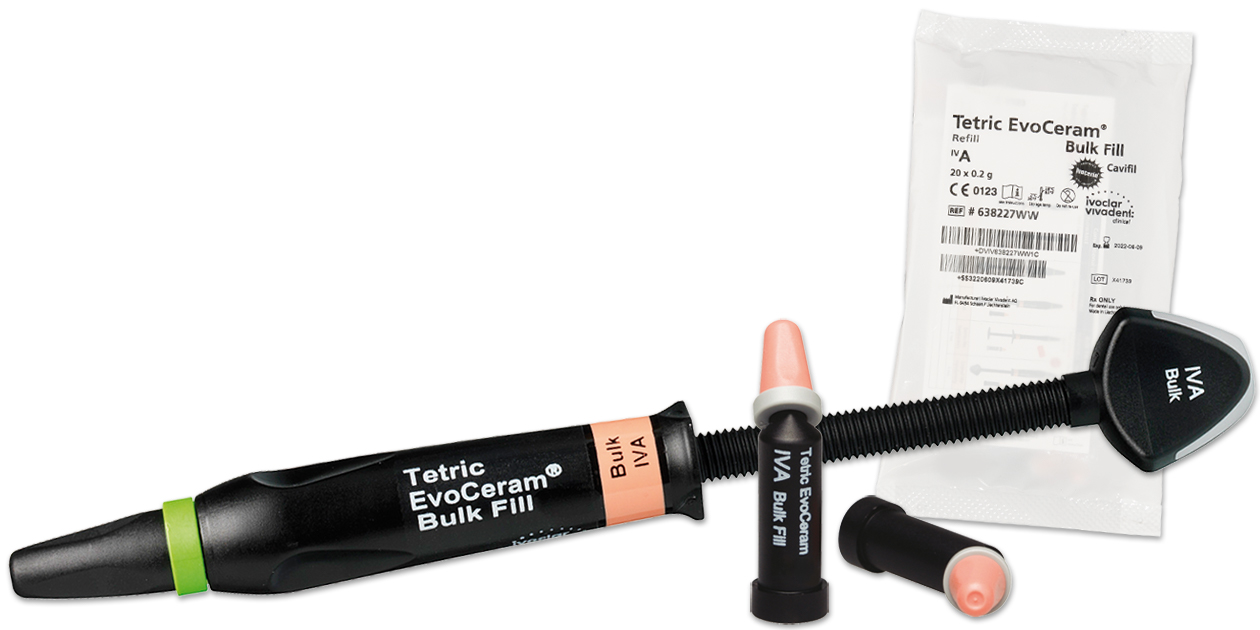 Watch Product Video(s)
Read Product Review(s)
Product Details
Bulk fill version of Tetric EvoCeram can be placed in 4mm increments for greater productivity in larger Class I & II restorations. Translucency level of 15% picks up the natural tooth shade and blends well for unparalleled esthetics. Its smooth consistency facilitates excellent adaptation to cavity walls. Its well-balanced filler composition means you can contour immediately after placement, with no need for a final "capping" layer.

Available in 3 shades:
IVA – between A2 and A3
IVB – between B1 and B2
IVW – whitish; e.g. deciduous teeth
The manufacturer has notified Safco as of December 1, Tetric EvoCeram Bulk Fill has transitioned to Tetric PowerFill.
Clinical Evaluations
Tetric EvoCeram Bulk Fill
3-Year Clinical Performance
Description
Tetric EvoCeram Bulk Fill is a nano-hybrid bulk fill composite indicated for direct restorations in posterior teeth.
Clinical Evaluation Protocol
After three years of tracking, 114 Tetric EvoCeram Bulk Fill restorations were recalled. Results at 3 years:
Esthetics: The esthetics reported at placement were maintained and reflected in the high rating. While the material was reported as slightly translucent at placement, minimal additional stain or color change was reported after 3 years.
Resistance to Fracture/Chipping: 98% of the restorations were in excellent condition with a few of the very large posterior composites exhibiting slight chipping. Clinicians were easily able to finish/polish the imperfections.
Resistance to Marginal Discoloration: At the three-year recall, nearly all of the restorations were in excellent condition with closed, undetectable margins. A few of the large restorations in patients with bruxism showed minor changes at the margin.
Wear Resistance: Tetric EvoCeram Bulk Fill is a strong nano-hybrid composite that held up very well to occlusal forces both in the posterior region and in larger restorations. Very little evidence of wear was reported.
Lack of Postoperative Sensitivity: No post operative discomfort was reported in any of the restorations after 3 years in service.
Summary
Tetric EvoCeram Bulk Fill performed exceptionally well after 3 years.
Clinicians reported excellent esthetic and functional results. It received 98% clinical performance rating.
Consultants' Comments
♦ "Excellent strength and wear resistance after 3 years."
♦ " I used it for a very large posterior restoration which I thought needed a crown. It is still performing well after 3 years."
♦ "Looks beautiful!"
©"The Dental Advisor" October 2016 www.dentaladvisor.com