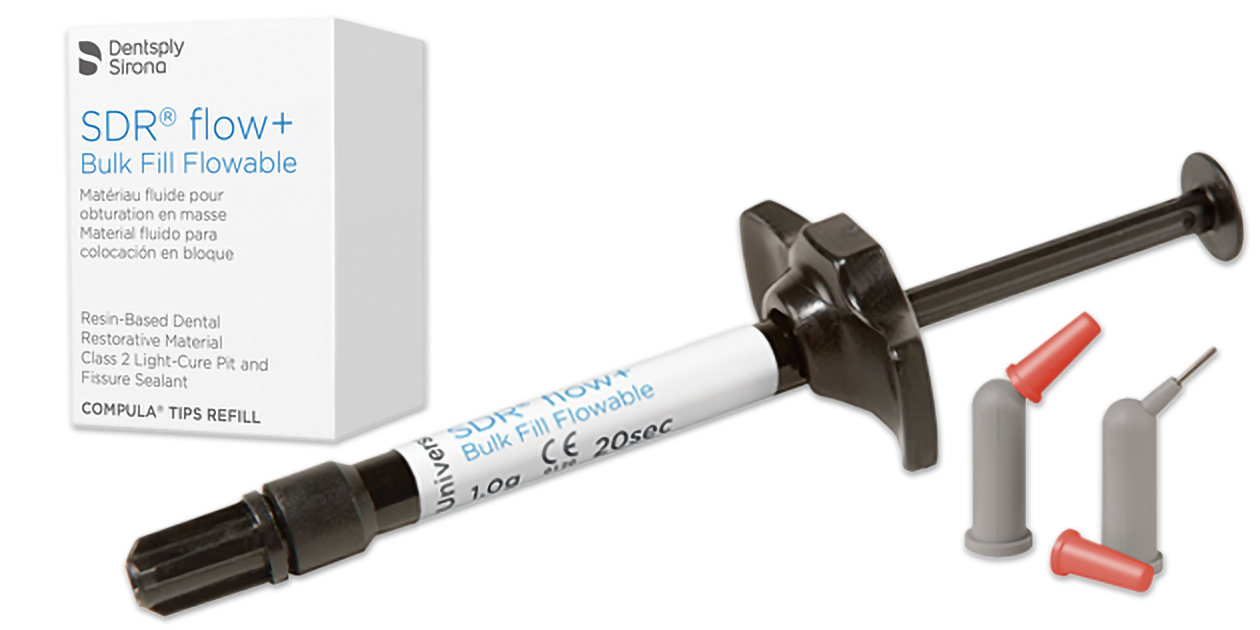 Free item will be of equal or lesser value to lowest price purchase item.
Compula bulk refill universal shade is not included in this offer.
Product Details
Bulk fill flowable direct restorative material featuring a unique self-leveling handling which provides excellent cavity adaptation and minimizes the need for instrument manipulation.
Indicated as a base for Class I and II cavities, pit and fissures, core build-ups, conservative Class I's, Class III and V restorations. The flowable composite can be used in up to 4mm increments which reduces placement time by up to 40%. Provides increased wear resistance and higher radiopacity.
Clinical Evaluations
SDR Flow+ earned 4.4 stars out of a possible 5.0.
Strengths:
Universal shade exceeds the 80% cure goal at the bottom of the proximal box even with 20 seconds of curing and with a thickness of 4mm. From a handling standpoint, it has just enough flow to make its placement as a base or liner very easy, especially into corners, angles, and uneven areas due to its self-leveling feature if you give it time before curing. Minimal stickiness. Precision dispensing is also made easier with the Compula tip. Minimal voids. Does not tend to drip from the Compula tip. Polishes well with Enhance followed by PoGo. Vita shades match reasonably well. Really good fluorescence.
A2 shade did not cure very well in a proximal box if you place it in a 4mm thickness. All shades are quite translucent and could produce a graying effect in a through and through Class III. The translucency of the Universal shade can give a gray cast to a Class I or II restoration if you don''t allow the recommended 2mm of space short of the eventual occlusal surface to provide room for the overlaid sculptable composite.
Bottom line:
A moderate upgrade from the original version retaining its exemplary flow properties along with its Universal shade having a better depth of cure and its three Vita shades being able to be used in small Class III and V situations, but you still need to place a more heavily filled material over it for wear resistance in Class I and II restorations and its translucency can be an esthetic problem.
©REALITY Publishing Company
1/26/18 website update
www.realityratings.com